LA VIE EN BLEU: THE LIFE & ART OF MARGUERITE CASTAING
In 2016, the children of Jacques and Majorie Dardenne, longtime residents and members of the St. Augustine Art Association, gifted STAAA a body of work by Jacque's mother, French artist Marguerite Castaing. Through a grant from the Community Foundation of Northeast Florida, the Art Association is mounting this exhibition of over 80 works by the French Impressionist in a gallery-wide installation in November and December, 2020. Years in the making, this will be the first public exhibition of Marguerite Castaing's work in over a decade.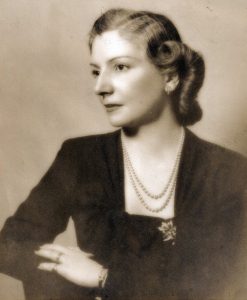 ABOUT MARGUERITE CASTAING
Marguerite Castaing was born on September 28, 1900, in Pau at the foot of the Pyrenees mountains in southwestern France. She was the youngest daughter of Joseph Castaing, a painter and pastelist, and Rose Picamilh. Her career in art began when she was six years old. She initially studied with her father, Joseph Castaing, who taught her to use various mediums — pencil, oils, and the not-so-common pastels. At 16 Marguerite was accepted to the French Salon where she exhibited landscapes done in pen and ink, oils and pastels. Soon after her father's death in 1918, Marguerite moved to Paris where she studied under renowned artists Paul Laurens and Pierre Bonnard. While in Paris, she took an interest in sculpture, portraits and nudes — deviating from her usual painted landscapes. Over the next fifteen years, Marguerite Castaing exhibited every year in the Paris Salons and in other regions of France.
PHOTO LEFT:  Marguerite Castaing, New York City, circa 1940s, photo courtesy of the Dardenne Family
In 1942, she along with her husband Lewis Riley and her son Jacques Dardenne, made the decision to leave Nazi-occupied France and move to America. The family settled in Connecticut close to family and to New York City so Marguerite could show her work. Her first exhibition in the States was February 9-29, 1944, in the David Koetser Gallery in New York City. One of her notable exhibits was at the Berkshire Museum in June 1947, where she exhibited 82 paintings, drawings, pastels and sculptures, displaying her diverse skill with subject matter and mediums. In 1948, Lewis Riley died unexpectedly of a heart attack. Following his passing, Marguerite Castaing found herself living in New York City, Hollywood Beach, Florida, and Millinocket, Maine. In Maine, she painted 24 landscapes for the Great Northern Paper Company calendars.
IMAGES BELOW:
Left: Self Portrait; pastel, STAAA Permanent Collection
Center: France, oil painting by Marguerite Castaing, STAAA Permanent Collection
Right: Pen & Ink, Marguerite Castaing, STAAA Permanent Collection
In 1958, at her niece's wedding, Marguerite met Colonel John W. H. M. Huffer, the groom's father. The pair hit it off and were married two years later.
They spent their time between Ridgefield, Connecticut and Sarasota, Florida. Marguerite would continue to paint and exhibit until the late 1970s when her health began to decline. She passed away in 1984 at 84 years of age.
Marguerite Castaing's work isn't marked by invention or loudness, but rather a desire to get it right. She put intention and consistency into her work knowing that every stroke and color applied would bring a piece one step closer to the end.
Artistically Marguerite identified with the generation she studied under: the Impressionists–and her favorite color was blue.
"I see blue all over–the Impressionists showed me the color…I always paint by true life…I am very temperamental and I need to wait until I am in the mood. Then I can paint very rapidly…I do pastel like you do an oil. I never touch it with my thumb."It is not known how many drawings, paintings, pastels and sculptures Marguerite Castaing produced in her lifetime. What is known though, is that her work elicits a passion and precision that garnered the attention of gallery owners, collectors and critics of her time.